Jerry Garcia Band (electric) was scheduled to play
Frost Amphitheatre at Stanford University on July 14, 1991
, but July 11th announced that
Citing "mounting health problems," Jerry Garcia has postponed his upcoming tour dates, including his show scheduled for Sunday at Frost Amphitheater.
This ended up being canceled.
I had earlier noted that
that summer's Eel River show had been moved from 7/13/91 to 8/10/91
, speculating that Jerry was rehabbing his latest fall from the wagon on the heels of yet another GD intervention after the Denver Dead show (6/28/91). The rare candor of the Stanford cancellation announcement feels to me like strong confirmation of rehab as the reason.
I also found a ticket stub at Wolfgang's Vault showing
JGB at The Telluride Mid-Summer Music Festival, in beautiful Telluride, CO, Friday, July 19, 1991
. (Also billed that day: Jackson Browne / Joe Cocker / Allman Brothers Band.) This performance was also canceled.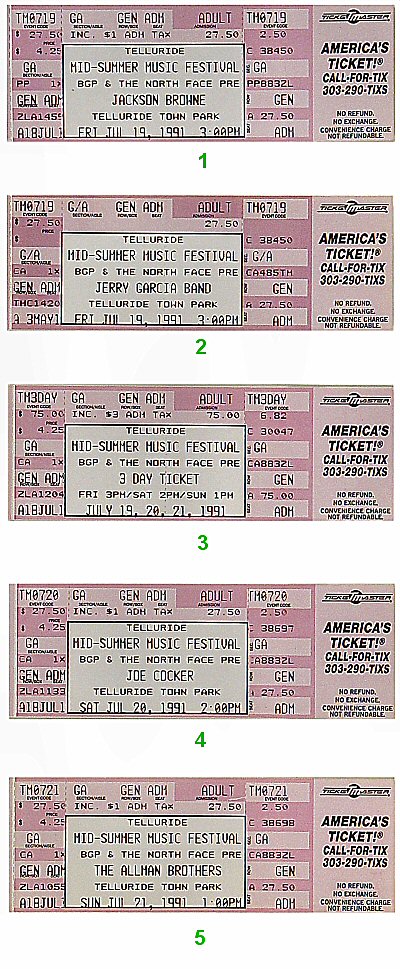 So Gar is off the road a little bit, giving up some paydays trying to get himself clean again.
REFERENCE:
"No Jerry Garcia concert Sunday,"
Stanford Daily
, July 11, 1991, p. 18.