Does anyone know a list of John Scher-promoted concerts?
I thought, one day, while I'm at it, why don't I systematically start coding in PROMOTERs? Yeah, that won't take long!
So, having more or less finished coding Jefferson Airplane through 1969, I have taken to coding promoters for them and all of the Garcia stuff, at least i nthe Bay Area. All of this to check a point about the comparison of GD and JA business crossings with Helms/FD and Bill Graham (think of a 2x2 table ... I want the frequencies in the cells, and basically want to do a t-test.)
Thanks to Ross, I have been able to code Bill Graham in, in a rough way. The Family Dog stuff is easy enough, as will be the Herrera stuff.
So, while I am at it, I thought another day, why don't I code Scher? Be good
prosopographical
practice, says I.
So, I need a list of all John Scher -promoted concerts, at least those involving GD/Garcia. Preferably in Excel format. :)
Moyssi's
site, besides containing a huge number of terrific scans of program covers, has a "
Complete list of Capitol Concerts 1971-1984
— Compiled by John Goodfellow. Great work, and thank you, gentlemen! (A complete set of Garcia/GD-relevant programs for my archive/museum would be gratefully received!)
And, for our enjoyment, here's a non-Capitol program cover, from the JGB show 7/26/80 at the Convention Hall in Asbury Park, NJ, a "John Scher Presents on the Boardwalk" promotion: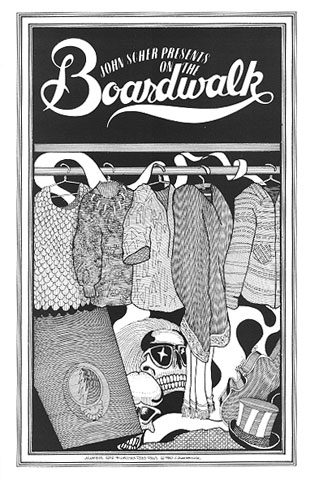 "John Scher Presents on the Boardwalk"
Jerry Garcia Band, Convention Hall, Asbury Park, NJ, July 26, 1980.
Image courtesy of Moyssi (moyssi.com).
Anyway, I need that, but all of his venues, and all of his dates (at least through 1995).
Anyone?